Norbar
Norbar's state-of-the-art factory facilities ensure we provide the very latest design, manufacturing and quality control technology to achieve the highest level of innovation and precision in the field of torque control equipment. Globally available: Norbar is the only torque equipment manufacturer to be able to offer torque tool and instrument calibration services to the original factory standard on four continents. Stringent standards: The NATA accredited laboratory in Adelaide, South Australia, NVLAP accredited laboratory in Willoughby, USA, SAC-SINGLASlaboratory in Singapore and the laboratory in Shanghai accredited by TAF and CNAS all use the same equipment and procedures as the factory's UKAS accredited laboratory, so you are assured that you will always receive the same high standard of service that are Norbar's hallmark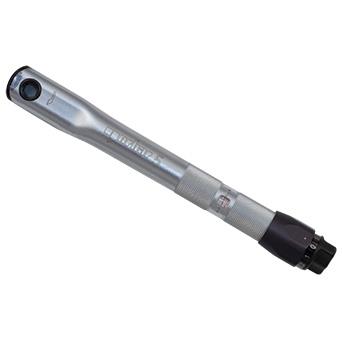 Torque Wrenches
Norbar Torque Tools manufacture an extensive range of high quality torque wrenches to cover torque values from 1 N•m to 2000 N•m. They are designed and manufactured to exceed international standards for accuracy.
In addition to the normal 'adjustable' torque wrenches, Norbar offer Production 'P' Type versions which can be pre-set and dedicated to aapplication. This setting system is designed to discourage unauthorized alteration.
All Norbar torque wrenches are offered as standard with a quality ratchet. For applications where interchangeable end fittings are required, 'Torque Handles' are also available in various models up to 650 N•m.
Manual Torque Multiplier
Norbar gearboxes are built to an extremely high standard of precision. All gears rotate on needle roller bearings about hardened and ground journal pins. As a result, NorbarHand Torques can be relied upon to have a torque multiplication accuracy of +/-4%, throughout the operating range, taking the uncertainty out of high torque tightening.
No gearbox is 100% efficient and so the velocity ratio (the number of turns that the input has to make to achieve one revolution of the output) is not the same as the torque multiplication ratio. Norbar multipliers are engineered such that each gear stage has a velocity ratio of typically 5.45:1 which results in a true torque multiplication factor of 5:1.
Torque output calculations are therefore a matter of simple arithmetic with little risk of incorrect bolt loading due to conversion errors. Other manufacturer's multipliers often require graphs or formulae to calculate the input torque to achieve a particular output.
The NorbarHand Torque is the most comprehensive multiplier range available. Standard products are available up to 47,500 N•m (35,000 lbf•ft) and 'specials' to 300,000 N•m (220,000 lbf•ft). A range of 'nose extensions' for reaching difficult to access bolts and full range of torque transducers for highly accurate torque monitoring are available.
We also have a large distribution network that can offer local sales and service support in over 150 countries.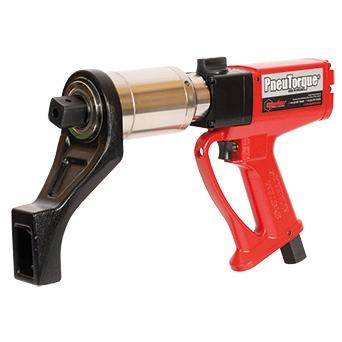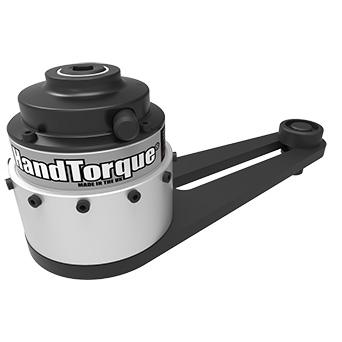 Pneumatic Torque Wrenches
Hand operated torque multipliers are ideal for low volume or intermittent use or when there is no power source available. However, for production lines or whenever a large number of bolts is involved, a powered multiplier will save a considerable amount of time.
PneuTorque operation is quiet - less than 85dB(A) with absolutely no impacting. These two factors make PneuTorques comfortable for the operator to use, reducing fatigue and consequently increasing safety.
PneuTorques provide accurate torque control - on a given joint they will stall repeatably to within ±5%. Using electronic shut off, this repeatability can be improved to ±2%.
The PneuTorque consists of a robust air motor driving a Norbar multiplier with three or more stages of epicyclic gearing.
Torque control is achieved by adjustment of the air pressure. An air pressure versus torque graph and a calibration certificate is supplied with each tool and allows specific torque values to be set. For more critical applications, PneuTorques can be fitted with a torque transducer and the precise torque output displayed. The tool can then be shut off at the desired torque either manually or automatically using suitable control circuitry.
Models are available up to 300,000 N•m (220,000 lbf•ft).